9 Healthy Fatty Fish Recipes
When it comes to dieting, one of the best means of getting a healthy amount of these fats while also loading up on proteins is by eating fish. Lots and lots of delicious fish.
I figured the best way to help you incorporate more wonderful, fatty fish into your diet was to provide you with some excellent recipes from around the web.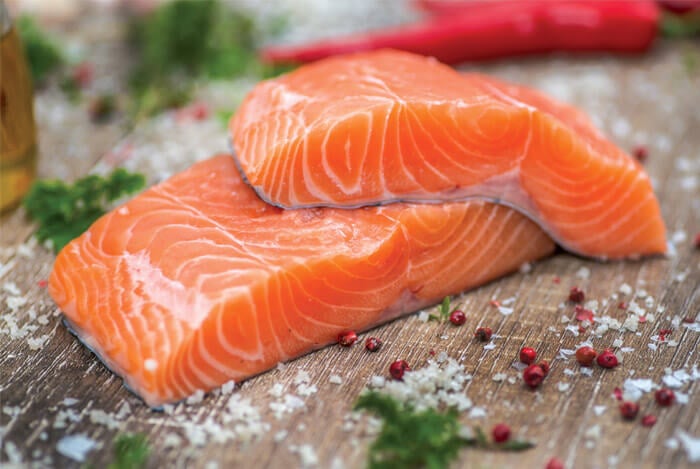 Salmon is guaranteed to make more than one appearance on this list, thanks to its fantastic supply of nutrients. This flavorful (and potentially very spicy, depending on how you handle your red peppers) fish dish will provide you with 13 grams of fat, an incredible 32 grams of protein, and 871 milligrams of potassium.
Ingredients
1/3 cup sliced almonds, toasted
1/4 cup chopped jarred roasted red peppers
1/4 cup halved grape tomatoes, or cherry tomatoes
1 small clove garlic
1 tablespoon extra-virgin olive oil
1 tablespoon sherry vinegar, or red-wine vinegar
1 teaspoon paprika, preferably smoked
3/4 teaspoon salt, divided
1/2 teaspoon freshly ground pepper, divided
1 1/4 pounds wild-caught salmon fillet, skinned and cut crosswise into 4 portions
2 medium zucchini, or summer squash (or 1 of each), halved lengthwise
Canola or olive oil cooking spray
1 tablespoon chopped fresh parsley, for garnish
Directions
Preheat grill to medium.
Process almonds, peppers, tomatoes, garlic, oil, vinegar, paprika, 1/4 teaspoon salt and 1/4 teaspoon pepper in a food processor or blender until smooth; set aside.
Coat salmon and zucchini (and/or summer squash) on both sides with cooking spray, then sprinkle with the remaining 1/2 teaspoon salt and 1/4 teaspoon pepper. Grill, turning once, until the salmon is just cooked through and the squash is soft and browned, about 3 minutes per side.
Transfer the squash to a clean cutting board. When cool enough to handle, slice into 1/2-inch pieces. Toss in a bowl with half of the reserved sauce. Divide the squash among 4 plates along with a piece of salmon topped with some of the remaining sauce. Garnish with parsley, if desired.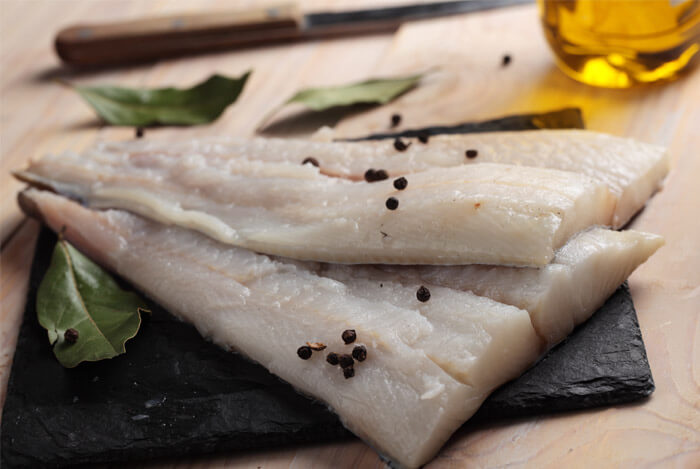 When you're taking your first break from the wonders of salmon, halibut will do just fine as an alternative. This recipe makes it clear that any fish will do for this dish however.
Ingredients
2 slices slightly stale whole-wheat or rye bread
4 teaspoons extra-virgin olive oil, or canola oil, divided
1/2 cup finely chopped shallot
1/3 cup fresh lemon juice
2 teaspoons butter
1 tablespoon capers, rinsed
2 pounds Pacific halibut, or other firm-fleshed fish cut into 8 pieces
1/4 teaspoon salt
1 x 16 ounce jar sliced pickled beets, drained and diced
Directions
Preheat oven to 425 degrees F. Coat a 9-by-13-inch baking dish with cooking spray.
To make breadcrumbs, grate bread through the large holes of a box grater; place the crumbs in a small bowl and toss with 2 teaspoons oil.
Heat the remaining 2 teaspoons oil in a medium nonstick skillet over medium heat. Add shallot and cook, stirring, until softened, 2 to 3 minutes. Pour in lemon juice and bring to a boil, stirring gently; remove from the heat and add butter. Swirl the pan, letting the butter melt and slightly thicken the sauce. Stir in capers.
Sprinkle fish with salt and place in the prepared baking dish. Pour the pan sauce over the fish and sprinkle with the breadcrumbs.
Bake the fish until it is opaque in the center, 15 to 18 minutes. Serve each portion topped with about 3 tablespoons pickled beets.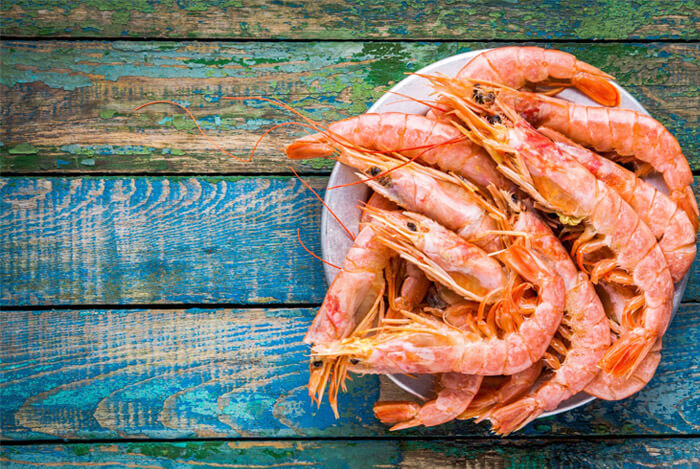 For some lighter fare, this seafood salad is exactly what I look for when I go to restaurants that are heavy in the pasta-seafood platters. Though, I'm rarely fortunate to find one that combines shrimp and scallops with wondrous avocado.
You're looking at a cool 12 grams of fat, 8 grams of fiber, and 32 grams of protein.
Ingredients
3 stalks celery (1 quartered, 2 thinly sliced)
3 small cloves garlic (2 smashed, 1 chopped)
Juice of 1 lemon
Kosher salt and freshly ground pepper
8 ounces baby carrots, halved lengthwise
3/4 pound small shrimp, peeled and deveined
1/2 pound sea scallops, halved horizontally
1 small avocado, halved, pitted and peeled
2 romaine lettuce hearts, torn
1 tablespoon capers, plus 1 tablespoon brine from the jar
2 cups croutons
1 tablespoon light mayonnaise
Directions
Combine the quartered celery, smashed garlic, half of the lemon juice, 10 cups water, and salt and pepper to taste in a large saucepan. Cover and bring to a boil, then uncover, add the carrots and cook 2 minutes.
Add the shrimp and cook until opaque, about 4 minutes. With a slotted spoon, transfer the carrots and shrimp to a colander and rinse under cold water. Return the water to a boil, add the scallops and cook until opaque, 1 to 2 minutes. Remove the scallops with a slotted spoon, add to the colander and rinse under cold water.
Ladle out 1/3 cup of the poaching liquid; set aside to cool. Dice half of the avocado and combine with the sliced celery, lettuce, capers and croutons in a large bowl. Add the carrots, shrimp and scallops.
Puree the remaining avocado half in a blender with the reserved poaching liquid, the remaining lemon juice, the caper brine, chopped garlic, mayonnaise, 1/2 teaspoon salt, and pepper to taste. Toss with the salad and season with salt and pepper.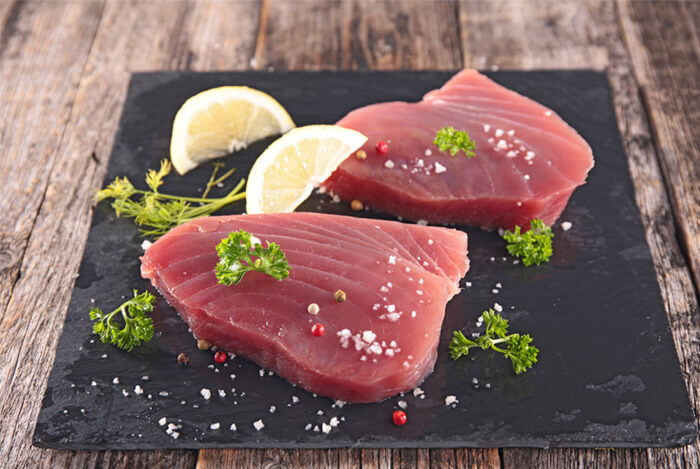 My first ever tuna steak was a revelation. Since then, I'd say I've eaten quite a few more, and never felt guilty after a meal. And let me tell you, pistachios should be coupled with fish more often.
Per serving this recipe has 7 grams of total fat, 29 grams of protein, and only 241 calories.
Ingredients
1 tablespoon thinly sliced shallot
1 bay leaf
1/2 cup white wine
3 tablespoons reduced-fat sour cream
2 teaspoons lemon juice
2 teaspoons chopped fresh dill, divided
1 teaspoon whole-grain mustard
1/2 teaspoon salt, divided
1/4 cup coarse dry breadcrumbs, preferably whole-wheat
1/4 cup shelled pistachios
4 x 4 ounce tuna steaks, 1-1 1/4 inches thick
1 teaspoon extra-virgin olive oil
Directions
Place shallot, bay leaf and wine in a small saucepan and bring to a boil. Reduce until the wine is almost evaporated, about 5 minutes. Remove from the heat, discard bay leaf and transfer to a small bowl. Add sour cream, lemon juice, 1 teaspoon dill, mustard and 1/4 teaspoon salt; stir to combine.
Put breadcrumbs, pistachios, the remaining 1 teaspoon dill and 1/4 teaspoon salt in a blender or food processor. Process until finely ground. Transfer to a shallow bowl. Dredge both sides of the tuna in the pistachio mixture.
Heat oil in a large nonstick skillet over medium heat. Add the tuna and cook until browned, adjusting the heat as necessary to prevent burning, 4 to 5 minutes per side for medium-rare. Serve with the lemon-dill sauce.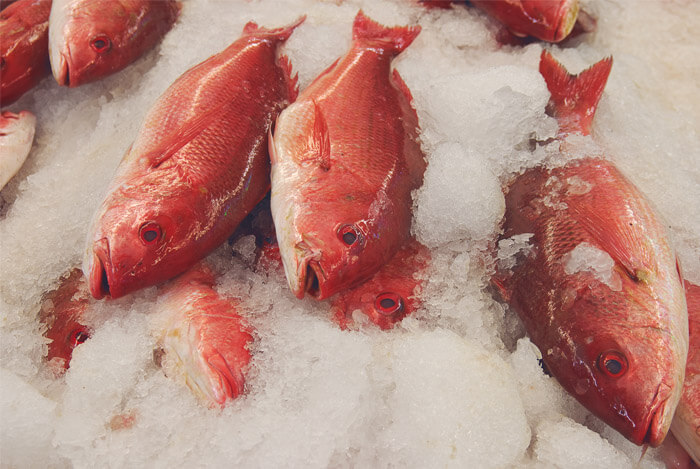 Because of how flexible this recipe is on the type of fish you use, I'll go ahead and recommend salmon. You may be able to tell, I love salmon. However, the recipe says cod, red snapper, trout, or halibut would also be perfectly suitable.
Each serving will net you 29.7 grams of protein, anywhere from 1.1 gram to 13 grams of fat (depending on your fish), and only 142 calories.
Ingredients
6 x 6 ounce fish fillets
1 tablespoon dried dill weed
1 tablespoon onion powder
2 teaspoons dried parsley
1/4 teaspoon paprika
1 pinch seasoned salt, or more to taste
1 pinch lemon pepper
1 pinch garlic powder
2 tablespoons lemon juice
Directions
Preheat oven to 375 degrees F (190 degrees C).
Cut 6 foil squares large enough for each fillet.
Center fillets on the foil squares and sprinkle each with dill weed, onion powder, parsley, paprika, seasoned salt, lemon pepper, and garlic powder. Sprinkle lemon juice over each fillet. Fold foil over fillets to make a pocket and fold the edges to seal. Place sealed packets on a baking sheet.
Bake in the preheated oven until fish flakes easily with a fork, about 30 minutes.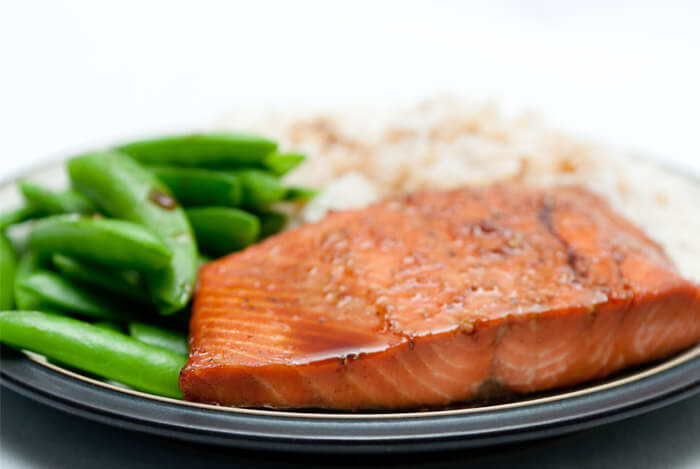 What better way to bring out the awesome flavor of salmon than to combine it with the strong, unique flavors of bourbon?
This is one of the lower sodium content recipes I've found so far, coming in at only 281 milligrams, along with 14.1 grams of fat and a powerful 37.4 grams of protein.
Ingredients
3 tablespoons brown sugar
3 tablespoons bourbon
2 tablespoons low-sodium soy sauce
1 tablespoon grated peeled fresh ginger
1 tablespoon fresh lime juice
3 garlic cloves, minced
1/4 teaspoon freshly ground black pepper
4  x 6-ounce skinless salmon fillets
Cooking spray
1/4 cup thinly sliced green onions
1 tablespoon sesame seeds, toasted
Directions
Combine first 7 ingredients in a large zip-top plastic bag. Add fish to bag; seal. Marinate in refrigerator 1 1/2 hours, turning occasionally.
Heat a large nonstick skillet over medium-high heat. Coat pan with cooking spray.
Add fish and marinade to pan; cook fish 4 minutes on each side or until fish flakes easily when tested with a fork or until desired degree of doneness.
Place 1 fillet on each of 4 plates; drizzle each serving with about 2 teaspoons sauce. Sprinkle each serving with 1 tablespoon green onions and 3/4 teaspoon sesame seeds.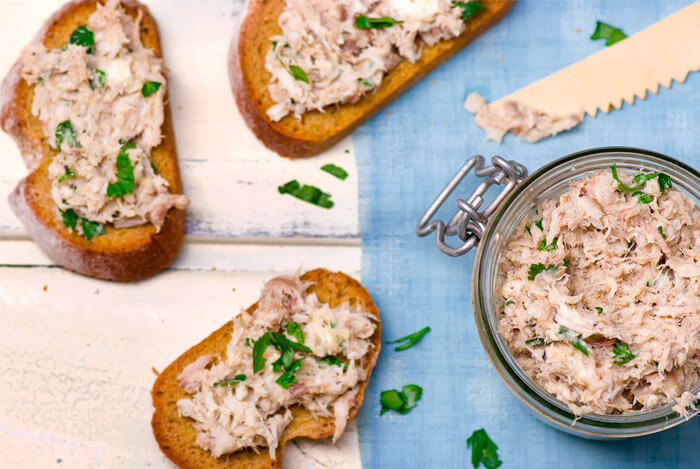 From the seas also comes mackerel, another rather fatty, heart healthy fish that promises its own taste and texture, as well as a bounty of omega-3s and other nutrients.
There's 23 grams of fat per serving in this dish, combined with 30 grams of protein and 730 milligrams of potassium.
Ingredients
2 x 120-125 g cans mackerel fillets in oil, or similar canned oily fish fillets
1 tsp English mustard
1 tbsp creme fraiche
Pinch of cayenne pepper
Lemon juice
Sea salt and freshly ground black pepper
Wholemeal toast or oatcakes, to serve
Quick-Pickled Onions
1 small red onion, peeled and finely chopped
1 large pinch caster sugar
2 tsp cider vinegar
2 tbsp finely chopped dill or parsley
Directions
Prepare the onion first: put it in a bowl, sprinkle over a good pinch each of salt and sugar and a grinding of pepper and toss. Leave for 10 minutes to soften (if the onion releases a lot of liquid, drain it off).
Sprinkle over the vinegar and dill or parsley, stir, and leave for 10 minutes more. Taste, add more sugar, salt or pepper as needed, and set aside until you are ready to serve – it will also keep in the fridge for up to 24 hours, but make sure you let it return to room temperature before serving.
Drain the oil from the cans of mackerel, and tip the fish into the bowl of a food processor. Add the mustard, creme fraiche, cayenne, some black pepper and a good squeeze of lemon. Blitz to a thick paste, stopping several times along the way to scrape down the sides of the processor.
Taste and add salt, if necessary (the canned fish is already quite salty), and more pepper or lemon juice, if you like.
Serve the pâté spread thickly on toast or oatcakes, with a scattering of the piquant onion on top.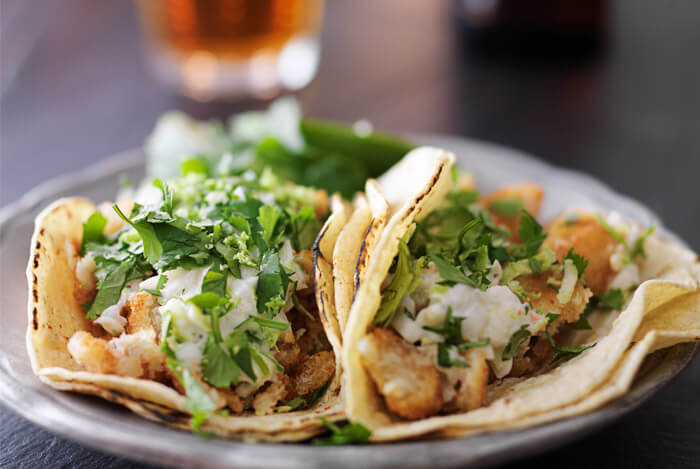 There's something about tacos that keeps me coming back to them time and time again, trying to find other variations on them that will surely be delicious and nutritious.
Depending on whether you use mahi mahi or another variety of fish, your fat content may change. As the recipe stands, you're looking at 6 grams of fat, 20 grams of protein, only 235 calories, and a bonus 75 milligrams of calcium per serving.
Ingredients
Cooking spray
3/4 pound mahi mahi or other firm white fish fillets
2 teaspoons fajita seasoning
2 cups pre-sliced green cabbage (about 6 ounces)
1 tablespoon fresh lime juice
1/2 teaspoon salt
3 tablespoons chopped fresh cilantro
8 (6-inch) corn tortillas
2 1/2 tablespoons reduced-fat sour cream, divided (optional)
1/2 avocado, pitted and diced
Bottled salsa
Lime wedges
Directions
Lightly spray grill rack with nonstick cooking spray, and preheat grill.
Sprinkle both sides of fish with fajita seasoning, gently pressing into flesh. Grill fish 3-4 minutes on each side or until fish flakes easily when tested with a fork. Flake into pieces with a fork; keep warm.
In a small bowl, mix together cabbage, lime juice, salt, and cilantro.
Wrap the tortillas in paper towels, and microwave 1 minute on HIGH or until they're warm.
Place taco ingredients on the table for assembly. Spread each tortilla with 1 teaspoon of sour cream, if desired, and top with fish, cabbage mixture, and avocado. Serve with salsa and lime wedges on the side.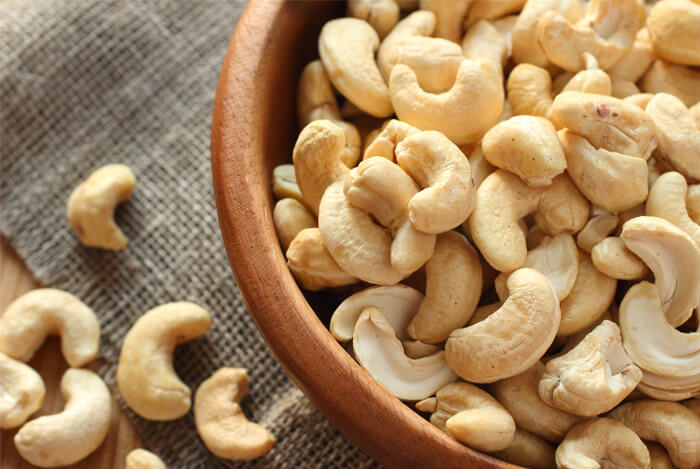 This one really knocks it out of the park when it comes to nutritional value, and fancy recipe names.
This fish will supply you with 15 grams of fat, 35 grams of protein, 621 milligrams of potassium, and 9 grams of fiber.
Ingredients
1/2 cup nonfat plain yogurt
3 scallions, sliced, greens and whites separated
2 tablespoons lemon juice
2 tablespoons chopped fresh cilantro
1/2 teaspoon ground cumin
3/4 teaspoon salt, divided
1/2 teaspoon freshly ground pepper, divided
1 tablespoon extra-virgin olive oil
1/4 cup chopped dried apricots
1 tablespoon minced fresh ginger
1 1/4 cups water
1 cup whole-wheat couscous
1 pound salmon fillet, preferably wild Pacific, skinned and cut into 4 portions
2 tablespoons chopped toasted cashews
Directions
Preheat grill to medium-high or position rack in upper third of oven and preheat broiler.
Combine yogurt, scallion greens, lemon juice, cilantro, cumin, 1/4 teaspoon salt and 1/4 teaspoon pepper in a medium bowl. Set aside.
Heat oil in a large saucepan over medium heat. Add apricots, ginger, the scallion whites and 1/4 teaspoon salt. Cook, stirring, until softened, about 2 minutes. Add water and bring to a boil over high heat. Stir in couscous. Remove from heat, cover and let stand until the liquid is absorbed, about 5 minutes. Fluff with a fork.
Meanwhile, rub salmon with the remaining 1/4 teaspoon each salt and pepper. If grilling, oil the grill rack. If broiling, coat a broiler pan with cooking spray. Grill or broil the salmon until browned and just cooked through, about 3 minutes per side. Serve with the couscous, topped with the yogurt sauce and cashews.
If you try any of these recipes, you can be sure you'll be getting all the amazing health benefits fats have to offer.
What's your take on these healthy fish recipes? Have anything else you'd like to share? Let me know in the comments below!
Want to know how to build muscle and lose fat eating delicious foods like these?
"Dieting" doesn't have to suck. You CAN eat foods you like and have the body you want!
Click Here to Learn How
OVER 100,000 PEOPLE HAVE USED MY COOKBOOK TO GET THE BODY THEY WANT EATING THE FOODS THEY LOVE. WILL YOU BE NEXT?
What if I told you that just about everything magazines and trainers "teach" you about dieting is wrong?
What if you could build muscle and lose fat eating "naughty" foods every week?
What if you didn't have to suffer through low-carb dieting to get lean? In fact, what if you could eat all the carbs you wanted?
And what if you didn't have to gorge yourself just to gain muscle and didn't have to put on pounds and pounds of ugly fat, either?
In short, what if I told you that proper dieting--whether you want to maximize fat loss or muscle growth--is much simpler and more enjoyable than you've been led to believe?
Imagine eating delicious, filling meals every day...never feeling starved or stuffed...having great energy levels and workouts...and watching your body respond exactly as you desire, dropping fat or adding muscle each and every week.
And imagine finally understanding how proper dieting really works, never again falling for the BS, tricks, and gimmicks pushed by "gurus" and other shysters.
Well, I have good news.
All these "fantasies" can be a reality...if you know how to do a handful of "little" things correctly.
You see, when you know how to diet properly--and this doesn't mean learning to eat boiled chicken and raw broccoli six times per day--getting lean and muscular becomes simple, convenient, and dare I say...enjoyable.
And this book will show you the way.
If you enjoyed this article, get weekly updates. It's
free

.
Sending...
Great! You're subscribed.
100% Privacy. We don't rent or share our email lists.