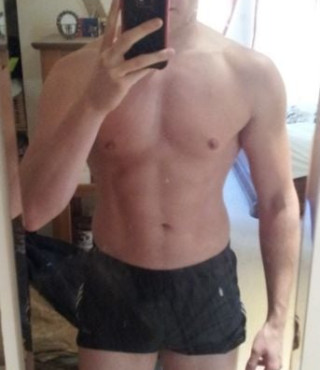 "The program makes you feel great!"
What has happened so far on the program?

When I began the program I was very hesitant of the fact that the routines consisted of only 3-4 exercises per workout, with only 3-4 sets of each exercise. Again, this was like nothing I'd seen before. However, the fact that Mike's program incorporates compound lifting with heavy weight into every workout, I was quick to learn that this was all that was needed, without overtraining (which I had unknowingly been doing for quite some time). My workouts last roughly 45 minutes to 1 hour and by the end of each I was shattered!
From the BLS (Bigger Leaner Stronger) book, I followed the 6 day routine, sticking closely to the exercises and routines outlined, whilst always incorporating a good level of cardio, particularly focusing on this during my cut. I also purchased Mike's Shredded Chef cookbook which helped keep motivation up in the form of cooking, allowing me to add excitement to some boring meals; plus I love cooking so that was fun. It was only when the time came to 'cut' that and I reviewed my diet I realised that according to Mike's book I wasn't eating enough during my bulk phase; something I didn't realize until it was too late. I decided to counteract this with a good cut, sticking as closely as possible to a 2:2:1 protein, carbs, fats ratio, whilst keeping my calorie intake restricted. I probably could have been more strict, but with my cut coinciding with my finals for my degree (which came with added stress), I indulged perhaps more than I should have!
I put on roughly 4kg (8.8lbs) during my bulk (5-6 months), and went from 84kg to 88kg, then my cut saw me drop back to 83kg (2-3 months), but during the cut I retained more of the muscle I wanted and lost more fat than I initially had; a good result!
What do you like most about the program?
Mike's continual support is great, both directly and indirectly. He provides articles which are updated almost daily on his website, and is always available by email if you have any queries. His books and articles are intuitive, detailed and never leaves any stone unturned. His knowledge is vast, and all the articles are backed up by a mixture of research and personal experience.
What, if anything, almost kept you from buying the book or starting the program?

The fact that that the key element of Mike's program was concentrated on strength training (low reps, heavy weight) initially put me off, as it went against everything that almost any other trainer, or fellow gym-goer had recommended (in fact some said it outright wouldn't work). However, I had tried various programs which I can see now were created for steroid-enhanced training, and my progress using these routines hit a wall pretty fast when my 'beginner gains' ended, so I said why not, and I'm glad I did!
What are three other benefits of the program?
I love the fact Mike promotes a healthy lifestyle, and it isn't all about getting huge, he likes to avoid a lot of the bro-science and steroid junk that dominates this industry, and instead just gives professional advice that is genuine, rather than thinking of you as someone to make profit out of, this is really hard to find.
A massive benefit of the program is the increase I've seen in my strength, it has actually doubled in some instances! Lifting heavy weight makes you feel good and all the muscle I have built is now strong and here to stay; I don't get as much of a pump in the gym owing to the lower reps, but the muscle I have is retained after a gym session, and doesn't just disappear (it really is muscle for life!). The photos above are taken just after I have woken up, not after a gym session!
The program makes you feel great! Mike's program is accessible to all, and aids in boosting confidence, as I now feel bigger, stronger, healthier, leaner, and better.
Would you recommend this program? If so, why?

Absolutely, and I already recommended it to anyone I can. I just wish more would realize how great it is! The benefits are endless.
Is there anything else you'd like to add?
I set out 18 months ago not to get a body like Arnold Schwarzenegger (even though he is awesome) but to become leaner, stronger and fitter. I found Mikes program about 10 months into my gym stint, and realized after reading his book that I was doing everything badly, so I changed my ways and will never look back. I managed to follow Mike's routine, whilst always feeling confident that it was working, remaining happy with myself, and of course seeing gains in the gym with respect to strength, size and physique. I still cycle long-distance and enjoy doing other cardiovascular exercise, and Mike's program has only made me fitter across the board! Anyone who thinks it is not possible to devote time to getting fit can be proven wrong with this routine, as I have juggled Mike's workout regime with the completion of a tough degree in engineering, whilst maintaining a good long-distance relationship with my girlfriend and having a decent social life; it can be done!
If you enjoyed this article, get weekly updates. It's
free

.
Sending...
Great! You're subscribed.
100% Privacy. We don't rent or share our email lists.