11 Awesome Vegan Recipes
You could definitely say that the vegan way of eating intrigues me.
Let's explore what it means to be vegan, discuss what vegans can eat, and more importantly, get to some tasty vegan recipes.'
How Are Vegans Different From Vegetarians?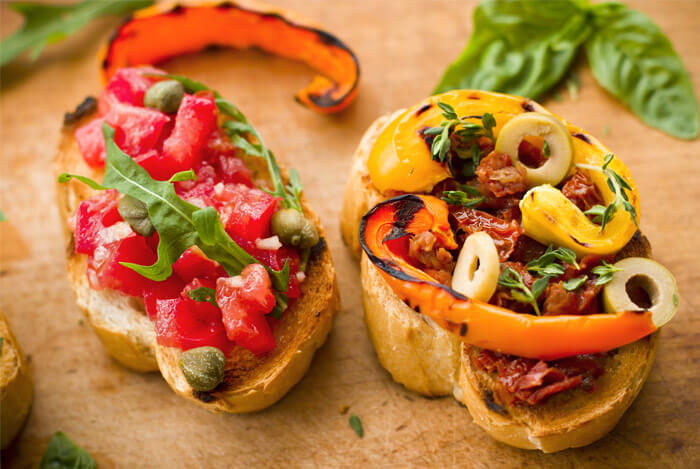 By definition, a vegan is someone who does not eat or use any animal products.
Therefore, vegans do not eat foods like eggs, dairy products such as cheese and yogurt, honey, fish, and meat.
Those 'off limits' food items are what separates vegans from vegetarians and pescatarians.
If an animal or insect had something to do with creating the food, vegans want nothing to do with it, even honey made by honeybees is out.
Many people find that this lifestyle is a bit restrictive. Oftentimes the biggest question is always, "Where do vegans get their protein from?"
You may be surprised to learn that there are several plant-based protein options out there.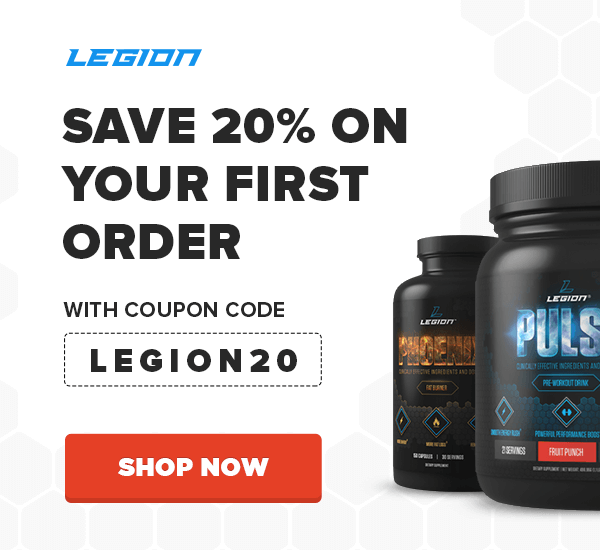 Where Does Vegan Protein Come From?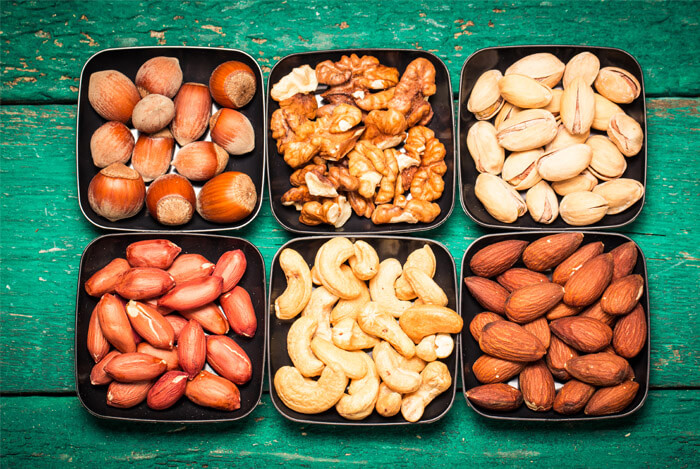 Here are some of my favorites:
Green peas
Quinoa
Nuts
Nut butters
Beans
Chickpeas
Tempeh and tofu
Edamame
Leafy greens
Hemp
Chia seeds
Seeds like sesame, sunflower, and poppy
Seitan
Non-dairy milk
Were you shocked by how many protein options vegans have? I know I was.
Most people are surprised to learn that vegans have other tasty options besides salads to choose from. In fact, vegan meals are can be delicious and satisfying.
Today I'm going to share 11 awesome vegan recipes that vegans and non-vegans alike will love.
Vegan Breakfast Options
1. Overnight Oats
In my post about healthy breakfast ideas that save time, I introduced you to overnight oats.
Well, did you know those fantastic overnights oats are also a tasty vegan breakfast option?
Let me tell you why I love overnight oats. They take less than five minutes to make, they're a great on-the-go meal, and I can always change the flavors so I'm never bored.
Here's how to make one serving:
Add ½ cup of old fashioned oats to a jar or Tupperware.
Pour ½ cup of nondairy milk (almond, soy, coconut) over the oats.
Sprinkle in 1 tbsp of chia seeds.
Add your favorite toppings: chopped nuts, fresh fruits, shredded coconut, a drizzle of pure maple syrup, etc.
Let the mixture sit overnight in your refrigerator.
The next day, stir the mixture before eating and enjoy it cold or heat it up for a warm start to your day.
2. Avocado & Re-fried Beans on Toast
Okay, so I'll be honest here, I was super hesitant to try this one. I never imagined that I'd be eating re-fried beans for breakfast, but now I'm totally hooked.
Simply toast two slices of whole wheat or rye bread.
Heat up some homemade vegan re-fried beans (You can use vegetarian re-fried beans, but you'll need to be careful since some companies still use animal lard in their varieties, which means it's not vegan anymore).
Spread the bean mixture on toast.
Add sliced avocados.
Sprinkle with some vegan cheese and enjoy!
It's that simple, and you'd be surprised at how filling it is.
However, if I'm being totally honest, I use goat cheese on mine instead of vegan cheese.
3. Breakfast Burritos
Since I occasionally step out of my comfort zone and shift away from traditional eggs and meat for breakfast, I've learned to love beans in the morning as a satisfying protein source.
After all, beans:
Are loaded with fiber to help keep you full and help you lose weight
Help our digestion work better
Regulate blood sugar levels to keep our energy levels sustained
Help lower cholesterol levels
Lower your risk for heart attacks
Are high in iron
Are a good source of B vitamins, which are important for vegans especially
Can reduce your risks of cancer
With those benefits, it's easy to see why I now start my day with beans regularly.
Here's how I make my vegan bean burritos:
Grab a whole wheat tortilla as your base.
Add a mixture of re-fried beans or black beans to the center of your wrap.
Sprinkle on toppings like chopped tomatoes (or salsa), peppers, corn, green onions, avocado, and fresh cilantro.
Next, you'll want to roll this into a burrito by folding in the left and right sides before tightly rolling the whole thing shut.
If you're the type of person who needs eggs in your life, and you're switching to a vegan lifestyle, I encourage you to try this recipe from Deryn Macey of Running on Real Food.
Although that recipe is a bit more complex, it uses foods like mushrooms and tofu to give you the taste and texture of eating eggs. You may not even miss the real thing once you switch over.
Let's move on to some tasty lunch options.
Vegan Lunch Choices
4. Mixed Veggies & Hummus Sandwich
During a trip to south Florida, I came across a local restaurant chain known as Nature's Way, and immediately fell in love with their Californian sandwich.
I liked it so much that when I went back home, I decided to re-create it myself.
To make it vegan, all you have to do is swap the melted Jack cheese for some tasty hummus and you're good to go.
Here's how to make it:
Spread a layer of hummus (about 1 tbsp) on two, toasted whole wheat or rye bread slices.
Lay down some fresh pieces of romaine lettuce or kale once the toast has cooled off.
Next, slice cucumbers and tomatoes and lay them on top of your chosen lettuce.
Top with some fresh avocado slices and a sprinkle of grated carrots and alfalfa sprouts and you're all set.
This delicious sandwich is crunchy, packed with flavor, and most importantly, now it's vegan.
5. "The Big Vegan Bowl"
One of my favorite vegan recipe blogs is Oh She Glows by Angela Liddon, a well-known vegan cookbook author.
I mean, just look at this vegan bowl from her site: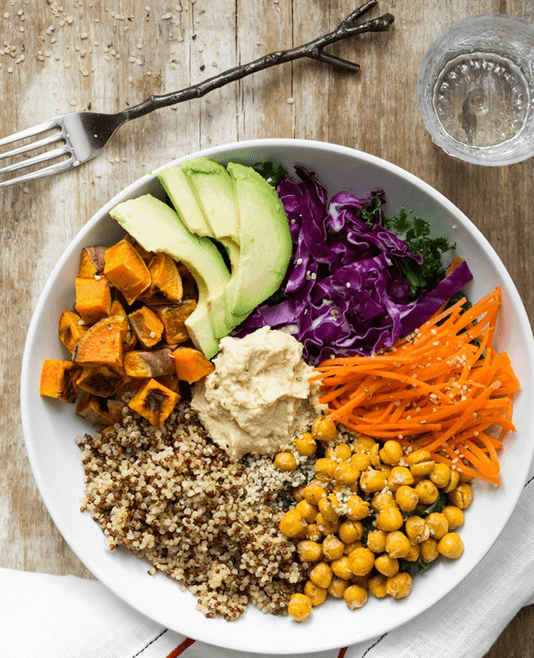 This is by far one of my favorite vegan recipes from Angela. With this kind of meal, I don't have that 'I need meat to feel full' feeling.
That's because Angela packs a healthy mix of carbohydrates from the sweet potato, protein from the quinoa, chickpeas, hemp seeds, and hummus, and some healthy fats with the avocado.
Plus, you also get a wonderful mix of brightly colored picture perfect veggies.
Here's what you'll need:
1 large sweet potato diced into ¾ inch cubes
1 x 15 oz can of chickpeas, drained and rinsed
1 cup of uncooked quinoa
1 large carrot, peeled and julienne sliced
A handful of shredded purple cabbage
A handful of mixed greens for the base (optional)
Fresh hummus
3-4 slices of avocado
A sprinkle of hulled hemp seeds
And here's how Angela tells us to make it:
Preheat your oven to 400 degrees F and line two baking sheets with parchment paper.
Spread the chopped sweet potato on one of the baking sheets and drizzle on a ½ tablespoon of oil. Toss the potatoes in the oil so that every one is completed coated and sprinkle a dash of fine sea salt on top.
Next, you'll need to drain, rinse, and completely towel dry the chickpeas. Discard any excess skins that fall off. Repeat the same procedure you did with the potatoes using the second baking sheet. For the chickpeas, you can also add some of your favorite spices like garlic, cumin, chilli powder, and salt.
Place both baking sheets in your preheated oven and roast for about 15 minutes. After that, flip the sweet potatoes and give the chickpeas a good shake so they roll around and can cook evenly. Place both sheets back in the oven for another 15 minutes or so. Angela recommends keeping an eye on the roasted goodies during the last 5 minutes to avoid burning them. You want your chickpeas to be golden and your sweet potatoes to be lightly brown and tender to the touch.
As you roast the veggies, you'll want to cook the quinoa using the directions on the package.
Now it's time to assemble your delicious bowl! Start out with some mixed greens on the bottom of a shallow bowl and begin adding the rest of the ingredients in. You can use Angela's picture as a guide or you can get creative with it.
Since this bowl is a bit time consuming, I like to make a double batch to have leftovers. As a tip, I keep all of the ingredients separated in individual Tupperware containers so everything stays nice and fresh.
Vegan Snacks
I don't think a vegan snack list would be complete if I didn't add kale chips. I have to admit that I was late to the kale chips game, but I've certainly made up for lost time.
In case you're not sure of how to make them, here's how you do it:
6. Easy Kale Chips
First, gather some fresh kale, olive oil, and salt.
Preheat your oven to 350 degrees F and line a baking sheet with parchment paper.
Go through the kale pieces and remove any thick stems. You'll also want to trim some of the larger leaves down to bite-sized pieces.
Place the kale on your baking sheet in a single layer, drizzle with oil, and sprinkle a bit of salt on top (seasoned salt works really well here).
Bake your kale for about 10-15 minutes. This part is a bit tricky so you'll need to keep a watchful eye. You want your kale edges to be brown, but not burnt. Trust me, it may take a few times to get this right if you're not careful.
It will be very hard to resist eating all of these when they've cooled a bit, consider yourself warned.
Although the kale chips can be portable, sometimes they don't always stay well, so if you're looking for a vegan on-the-go snack, I'd recommend trying these peanut butter energy bites from Minimalist Baker instead.
7. Peanut Butter Energy Bites
What I love about these energy bites, besides their delicious flavor, is how simple they are to make. The recipe only uses 5 ingredients and takes up about 15 minutes of my time, which is amazing.
Plus, the ingredients provide you with another healthy dose of carbs, protein, and healthy fats.
Here's what you'll need:
1 cup of dates, pitted (if your dates are dry, soak them in warm water for 10 minutes and drain well)
3 tbsp of almond butter or any other nut butter
¼ cup of dairy free chocolate, roughly chopped
1 tbsp chia seeds
⅔ cup rolled oats
And here's how you make it:
In a food processor or blender, pulse the dates until they become small pieces or until they form a ball together.
Combine oats, chocolate, chia seeds, and your nut butter with your dates. Pulse everything together until it's mixed well. Be careful not to over process things.
Using a melon baller or your hands, start rolling this mix into bite sized balls. You should be able to make about 14-15 balls.
Next, pop these bad boys in the fridge or freezer for about 15 minutes and enjoy!
Vegan Dinners
Next, we have our vegan dinners, and no, you won't find a boring salad here either.
8. "Cheesy Vegan Alfredo with Peas and Kale"
Although most alfredo sauces are already meat free, they definitely contain dairy products (which are off limits to vegans) and may not have nearly as much protein or nutrients as this alfredo from Luminous Vegans.
Here's what you need:
8 oz of pasta
½ cup of peas (can be frozen or fresh)
Kale leaves from 4 large stalks, cut into bite sized pieces
2 garlic cloves (leave one whole, mince the other)
1 ½ cups of almond milk
½ cup of raw cashews
¼ cup of nutritional yeast
1 tbsp lemon juice
¼ tsp of onion powder
½ tbsp of vegetable, low-sodium broth
salt and pepper
Here's how to make it:
Cook the pasta as you normally would.
Saute minced garlic clove in a lightly oiled pan over medium heat.
Add the kale leaves and a couple of tablespoons of pasta water or stock. Ideally, you want ¼ inch of liquids sitting in the pan. Stir to combine.
Next, add the frozen peas and a sprinkle of salt and pepper.
Put a lid on this and turn down your heat to medium-low. This will stay here until most of the liquid has evaporated.
For the sauce: add the almond milk, cashews, nutritional yeast, whole garlic clove, lemon juice, onion powder, and broth to a blender or food processor. Mix until very smooth. Add salt and pepper to taste.
Transfer this mix to a sauce pot that's big enough to hold both the pasta/kale mix and the sauce.
Heat the sauce over medium-high heat using a whisk to stir occasionally.
Once the mix has thickened, remove it from the heat and add the pasta/kale mix in. Be sure to drain any excess liquids from the pasta, peas, and kale mix before adding it to the sauce.
I save this recipe for those times I'm craving something creamy and unhealthy. It gives me that satisfying feeling without ruining my goals.
Another great meat free swap is veggie burgers.
Although there are a plethora of frozen options available on the market, I'd caution against eating some of those products since they may contain just as many questionable ingredients as typical junk foods.
Plus, it's really not too hard to make your own veggie patties and this next recipe will show you exactly how to do it.
9. "Sweet Potato & Black Bean Veggie Burgers"
This recipe comes from whole food blogger and vegetable enthusiast Kate Taylor of Cookie + Kate.
1 ½ pounds of sweet potatoes (the smaller the potatoes the better)
⅓ cup of quinoa
1 cup of old fashioned oats
1 can of black beans (15 oz), rinsed and drained
½ small red onion, diced
½ cup of fresh cilantro leaves
2 teaspoons cumin powder
1 teaspoon chili powder
1 teaspoon chipotle powder
½ teaspoon cayenne pepper (optional)
½ teaspoon of salt
High quality veggie oil
8 whole wheat buns
Any burger toppings you like (I prefer lettuce, tomato, onion, avocado, and some mustard)
Here's how to make it:
Cut the sweet potatoes in half and lay them center down on a baking sheet. Bake in a 400 degree F oven for about 30-40 minutes. Essentially, you want them tender and soft.
Remove the skin from the potatoes and chop up into pieces.
Cook the quinoa as directed on the package.
Using a food processor, grind the oats up into flakes until they're mostly broken. You do not want to go overboard and create a flour here.
Using an electric mixer, combine the cooled potatoes and quinoa with the black beans, onions, cilantro, and spices, including the salt. You want this mixture as well-combined as possible. It's okay to smash the black beans in the process.
For best results, move this mixture to the refrigerator to set.
Next, shape the mixture into patties using about ½ cup for each patty for a total of 8 burgers.
Pan fry the burgers using 1 tablespoon of oil in a cast iron or non-stick skillet. Each patty should take about 3-4 minutes on each side.
Similar to the vegan bowl, this recipe is a bit time consuming, but luckily, it yields eight burgers, which gives you plenty to share with your family and have some leftovers for lunch.
Decadent Vegan Desserts
10. "Flourless Vegan Chocolate-Dipped Cookie Dough Bites"
If cookie dough is something you think you'll miss going animal free, man are you in luck. These flourless cookie dough bites from Spoon University will surely hit the spot.
What I like most about these, besides the flavor, is their creativity. This recipe uses chickpeas instead of flour! I know it sounds weird, but trust me: the flavor is still as decadent as it should be.
1 ½ cup of rinsed and drained chickpeas, 15 oz can
2 tbsp of molasses
1 tbsp agave nectar (I use honey)
4 tbsp of almond butter
1 tbsp vanilla extract
1-2 teaspoons cinnamon
½ teaspoon of ginger
⅛ teaspoon of baking soda
Dash of salt
½ cup uncooked oats
⅓ cup raisins
2/4 cup of vegan semi-sweet chocolate chips
2 tbsp coconut oil
Here's how to make it:
Combine the chickpeas, molasses, agave nectar, almond butter, vanilla, spices (including salt) and baking soda in a food processor. You want a smooth consistency here.
Remove the contents from the food processor and transfer them to a bowl.
Add the oats and raisins to the mixture in your bowl.
Next, roll bite sized pieces into balls and place on an aluminum foil lined baking sheet.
Set the balls in the fridge or freezer for about 15 minutes.
While those are setting, melt the chocolate and coconut oil in a microwave safe bowl using 20 second intervals. Stir in between and make sure you don't overcook this.
Dip your cold dough bites into the warm, melted chocolate and cover them completely in the decadent cocoa.
After you've dipped them into the chocolate, set them up on the baking sheet and pop them right into the fridge or freezer so the chocolate can harden.
Man, I want some of these right now.
Last, but definitely not least, we have this light and airy vegan chocolate mousse, which also uses a bit of ingenuity.
11. "Vegan Chocolate Mousse"
This time, instead of chickpeas, we're using avocados.
Oh YES.
You'll need:
½ cup of semisweet chocolate
4 very ripe avocados, peeled and pitted
½ cup agave
½ cup unsweetened cocoa powder
⅓ cup of almond milk
1 tbsp pure vanilla extract
¼ tsp fine salt
Fresh raspberries for garnish
Here's how to make it:
Heat up the chocolate in a small saucepan over low-medium heat.
Combine the melted, slightly cooled chocolate with the avocados, agave, cocoa powder, almond milk, vanilla, and salt in a food processor.
Blend until completely mixed and keep scraping the excess off the sides.
Spoon into dessert cups and refrigerate for at least 3 hours.
I made the mistake of trying to eat this mix right away and it just did not taste right. The next time I was patient and it worked, so definitely let it sit for the specified 3 hours or more.
If your vegan diet lacks a bit of variety at times, go ahead and give these recipes a shot.
I hope you enjoy them!
What's your take on these vegan recipes? Have anything else you'd like to share? Let me know in the comments below!
Want to know how to build muscle and lose fat eating delicious foods like these?
"Dieting" doesn't have to suck. You CAN eat foods you like and have the body you want!
Click Here to Learn How
OVER 100,000 PEOPLE HAVE USED MY COOKBOOK TO GET THE BODY THEY WANT EATING THE FOODS THEY LOVE. WILL YOU BE NEXT?
What if I told you that just about everything magazines and trainers "teach" you about dieting is wrong?
What if you could build muscle and lose fat eating "naughty" foods every week?
What if you didn't have to suffer through low-carb dieting to get lean? In fact, what if you could eat all the carbs you wanted?
And what if you didn't have to gorge yourself just to gain muscle and didn't have to put on pounds and pounds of ugly fat, either?
In short, what if I told you that proper dieting--whether you want to maximize fat loss or muscle growth--is much simpler and more enjoyable than you've been led to believe?
Imagine eating delicious, filling meals every day...never feeling starved or stuffed...having great energy levels and workouts...and watching your body respond exactly as you desire, dropping fat or adding muscle each and every week.
And imagine finally understanding how proper dieting really works, never again falling for the BS, tricks, and gimmicks pushed by "gurus" and other shysters.
Well, I have good news.
All these "fantasies" can be a reality...if you know how to do a handful of "little" things correctly.
You see, when you know how to diet properly--and this doesn't mean learning to eat boiled chicken and raw broccoli six times per day--getting lean and muscular becomes simple, convenient, and dare I say...enjoyable.
And this book will show you the way.
If you enjoyed this article, get weekly updates. It's
free

.
Sending...
Great! You're subscribed.
100% Privacy. We don't rent or share our email lists.