10 Superfood Smoothie Recipes to Kickstart Your Day
If you're one of those people that skip breakfast due to time constraints, then these smoothie recipes are for you.
Most of these recipes can be whipped up in two minutes flat, especially if you prep the ingredients the night before. And they're all jam-packed with superfoods, meaning you'll have energy to burn all day long.
Strawberry and Goji Berry Smoothie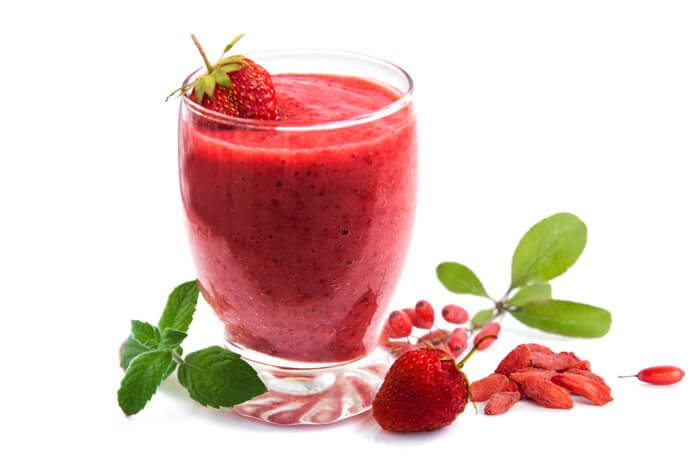 Goji berries are packed with antioxidants, vitamins, minerals, and even fiber.
This smoothie, by Skinny Ms, pairs gojis with another amazing berry: the strawberry. Strawberries are one of my favorite fruit, they're sweet, summery and full of vitamin C.
One cup of strawberries contains a crazy 149% of the recommended daily value (RDV) of vitamin C. That's more than one regular sized orange.
Vitamin C helps our bodies absorb iron from plant-based foods and enables the immune system to protect us from illness. It also is needed to make collagen, which is vital for healthy skin.
Ingredients (makes 2 cups)
2 tbsp dried goji berries
1 cup strawberries
2 tsp honey
2 cups almond milk
Ice
Directions
In a small bowl mix the goji berries and 1 tablespoon of water, leave for 15 minutes to make the berries softer. (Note: this can also be done overnight if preferred).
Then blend the goji berries and other ingredients until smooth.
Kick Booty Kale Smoothie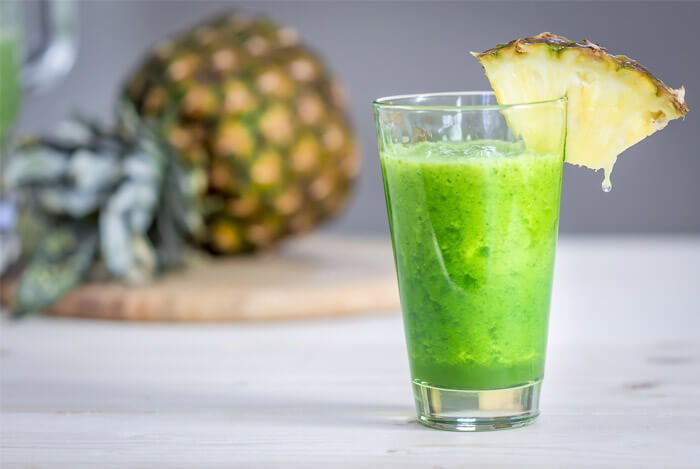 This kale and pineapple smoothie recipe from Well Plated is so named because it's, well…kick-ass!
In terms of protein, this packs a serious punch. According to the My Fitness Pal recipe calculator, one smoothie serves up an incredible 27 g of protein, thanks to the kale, Greek yogurt, milk and peanut butter.
This tropical fruit is also a rich source of manganese, which is essential in developing strong bones and connective tissue. The quarter cup used in this smoothie contains 20% of our RDV.
Ingredients (makes 1)
2 cups lightly packed chopped kale leaves, stems removed
3/4 cup milk of choice
1 frozen banana, cut into chunks
1/4 cup plain Greek yogurt
1/4 cup frozen pineapple pieces
2 tbsp peanut butter
1 to 3 tsp honey, to taste
Directions
Blend all the ingredients until smooth. Add more liquid if you prefer a thinner consistency.
Blueberry Flax Smoothie
Blueberries, ground flaxseed, spinach, Greek yogurt and coconut milk make for a fairly impressive list of superfoods, am I right?
Lee at Fit Foodie Finds had the genius idea of adding all these ingredients together to create this incredibly tasty smoothie.
One cup of these bad boys contains 35% of the RDV of vitamin K. This fat-soluble vitamin is essential for building strong bones, preventing heart disease and helping vitamin D perform at its best in the body.
Ingredients (makes 1)
1 cup blueberries, frozen
1 tbsp ground flaxseed
Handful of spinach
1/4 cup full-fat Greek yogurt
1 cup coconut milk
Directions
Blend all the ingredients until smooth.
Spiced Green Tea Smoothie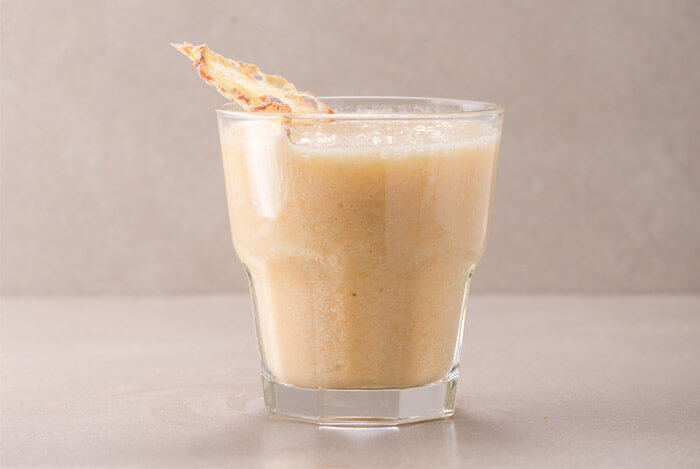 Not your usual berry mix, or even 'green monster', this spiced tea concoction is a smoothie with a difference.
Thankfully, Health.com made a green tea smoothie.
They also added in cayenne pepper for a boost in flavor.
On top of these two weight loss wonders, fiber-rich pears are known to be an incredible aid in fighting flab.
Ingredients (makes 1)
3/4 cup strong green tea, chilled
1/8 tsp cayenne pepper
Juice of 1 lemon
2 tsp agave nectar
1 small pear, skin on, cut into pieces
2 tbsp fat-free plain yogurt
6-8 ice cubes
Directions
Blend all the ingredients until smooth.
Antioxidant Smoothie Bowl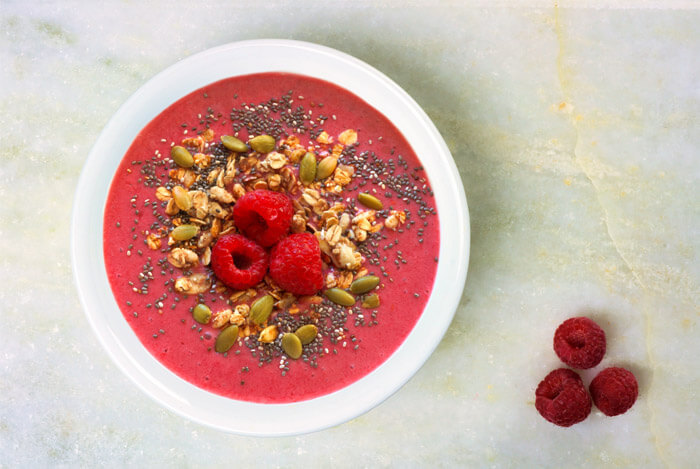 Sometimes, you want to sit down and enjoy breakfast at a leisurely pace – something that's tough to do with a smoothie.
Enter, the smoothie bowl.
It's exactly as it sounds – a smoothie in a bowl, but there's something more satisfying about eating breakfast with a spoon rather than gulping it down from a glass.
You can also add toppings which need to be chewed. Chewing slows us down and forces us to enjoy the meal more.
Blissful Basil's smoothie bowl recipe is topped with plenty of crunchy superfood garnishes to keep you healthy and full.
It also tastes crazy good.
Ingredients (makes 1)
1 frozen banana
1/2 cup frozen cherries or frozen berries
1 tbsp hemp seeds
1/2 cup almond milk
1/2 fresh banana, sliced
Fresh raspberries
Fresh blackberries
1 tsp chia seeds
1 tbsp pepitas
1 tbsp coconut flakes
1/4 cup pomegranate seeds
Directions
Add frozen banana, cherries, hemp seeds, and almond milk to a blender. Blend until smooth and pour into a bowl.
Top smoothie with sliced bananas, raspberries, blackberries, chia seeds, pepitas, coconut flakes, and pomegranate seeds.
Chocolate Avocado Smoothie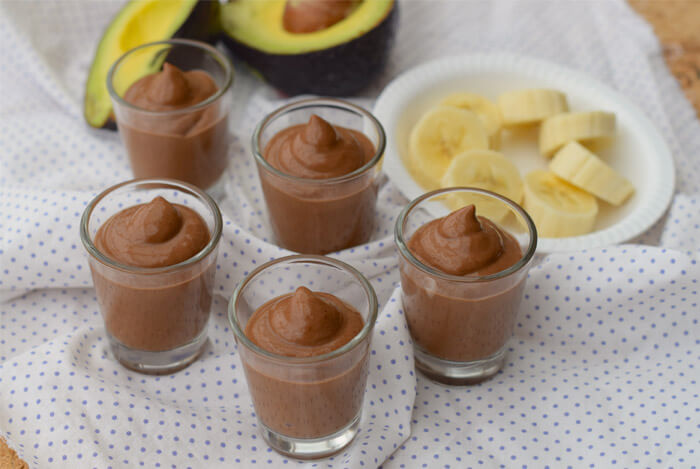 Who doesn't want to hear they can have chocolate for breakfast and still be healthy?
No one, that's who!
This creamy avocado based smoothie from Paleo Magazine tastes like dessert in a glass.
Avocado, which makes this breakfast so damn creamy, is a staple in my diet these days.
Ingredients (makes 2)
1 avocado
2 frozen bananas
1/2 cup raspberries, fresh or frozen
1-2 tbsp unsweetened cocoa powder
2 cups almond or coconut milk
Directions
Blend all the ingredients until smooth.
Plum Quinoa Smoothie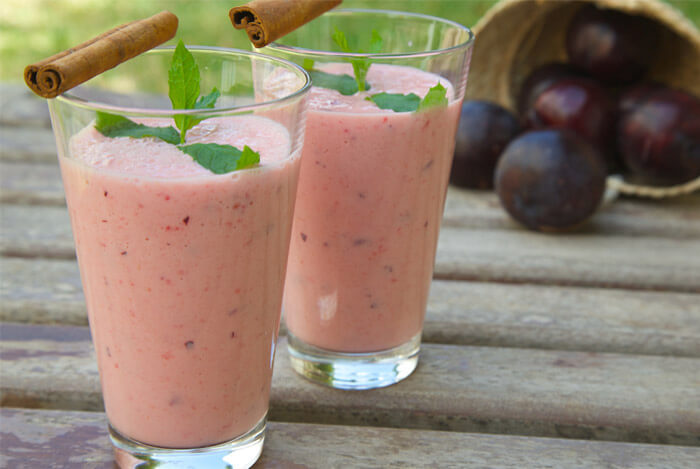 This smoothie by Turnip the Oven is an awesome way to use up leftover cooked quinoa from another recipe.
Quinoa has been used to fuel people since the days of the Inca warriors, so expect a major energy burst after this drink. One cup of quinoa boasts 39 g of carbs, 8 g of protein and 15% of your RDV of iron.
Ingredients
1 large ripe plum, pitted and cut into chunks
1/2 large frozen banana
1/4 cup cooked quinoa
1 cup unsweetened almond milk
1 tsp pure vanilla extract
1/4 tsp cinnamon
4 or 5 large ice cubes
Directions
Blend all the ingredients until smooth.
Oat Coconut Smoothie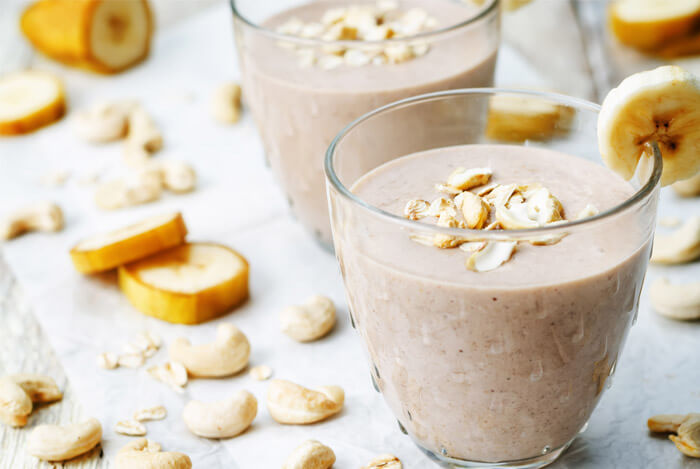 If you want to get on the smoothie bandwagon, but can't shake the idea of oatmeal for breakfast, this recipe by Martha Stewart will help you make the transition.
Another food that made that list, and happens to be in this smoothie, is Greek yogurt. Packed with protein, one third of a cup will give you about 5.5 g towards your daily requirement.
This awesome smoothie also contains coconut oil which is full of lauric acid, an anti-viral that also helps balance cholesterol levels. Make sure to melt the coconut oil before adding to the smoothie or you'll end up with lumps!
Ingredients
1/2 banana
1/4 cup old-fashioned rolled oats
1/3 cup Greek yogurt
2 tbsp coconut oil
1 tbsp honey
1/3 cup freshly squeezed orange juice
1/2 cup ice
Directions
Blend all the ingredients until smooth.
Swamp Smoothie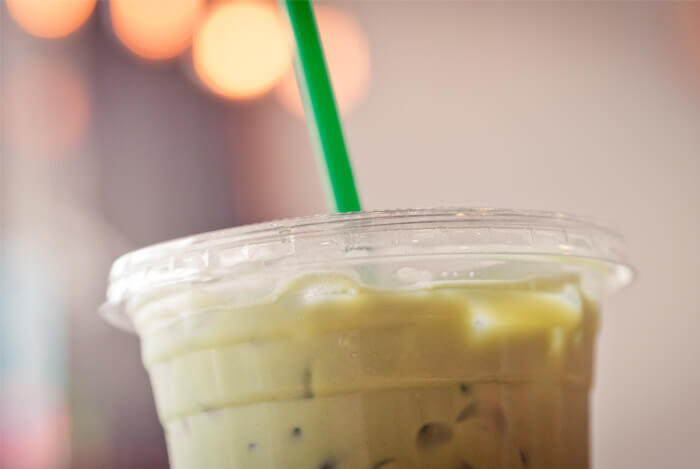 Don't let the name put you off this healthy smoothie recipe.
In the words of its creator Gena at Choosing Raw, 'this smoothie looks like mud, but tastes amazing'!
Don't let the ingredients put you off either – most notably the broccoli in there.
Ingredients
1 cup strawberries
1/2 small banana
1/2 cup chopped broccoli, steamed or raw
1 handful raw spinach
1 cup almond or hemp milk
1 heaping tbsp cacao or carob powder
3 tbsp hemp protein powder (or protein powder of choice)
1 tbsp shelled hemp seeds
Stevia to taste (optional)
Directions
Blend all the ingredients until smooth.
Coconut Turmeric Smoothie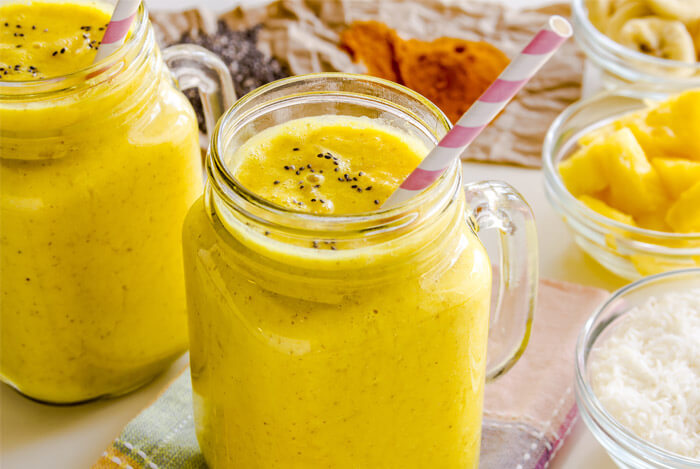 This superfood combo was featured in the Chalkboard Mag.
Ingredients
1 cup coconut milk
1/2 cup frozen pineapple
1 frozen banana
1 tbsp coconut oil
1/2 to 1 tsp turmeric
1/2 tsp cinnamon
1/2 tsp ginger
1 tsp chia seeds
1 tsp maca
Directions
Blend all the ingredients until smooth.
So there you have it – 10 healthy superfood smoothies to help you pack in as many nutrients as possible into your first meal of the day.
What's your take on these superfood smoothies? Have anything else you'd like to share? Let me know in the comments below!
Want to know how to build muscle and lose fat eating delicious foods like these?
"Dieting" doesn't have to suck. You CAN eat foods you like and have the body you want!
Click Here to Learn How
OVER 100,000 PEOPLE HAVE USED MY COOKBOOK TO GET THE BODY THEY WANT EATING THE FOODS THEY LOVE. WILL YOU BE NEXT?
What if I told you that just about everything magazines and trainers "teach" you about dieting is wrong?
What if you could build muscle and lose fat eating "naughty" foods every week?
What if you didn't have to suffer through low-carb dieting to get lean? In fact, what if you could eat all the carbs you wanted?
And what if you didn't have to gorge yourself just to gain muscle and didn't have to put on pounds and pounds of ugly fat, either?
In short, what if I told you that proper dieting--whether you want to maximize fat loss or muscle growth--is much simpler and more enjoyable than you've been led to believe?
Imagine eating delicious, filling meals every day...never feeling starved or stuffed...having great energy levels and workouts...and watching your body respond exactly as you desire, dropping fat or adding muscle each and every week.
And imagine finally understanding how proper dieting really works, never again falling for the BS, tricks, and gimmicks pushed by "gurus" and other shysters.
Well, I have good news.
All these "fantasies" can be a reality...if you know how to do a handful of "little" things correctly.
You see, when you know how to diet properly--and this doesn't mean learning to eat boiled chicken and raw broccoli six times per day--getting lean and muscular becomes simple, convenient, and dare I say...enjoyable.
And this book will show you the way.
If you enjoyed this article, get updates. It's
free

.

100% Privacy. We don't rent or share our email lists.